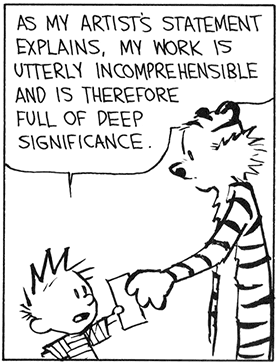 Cartoon by Bill Watterson, July 15, 1995
Through the design of apparently long-winded algorithmic processes, my work is aimed to the exploration of the relationship and expectations people have with technology, art and usefulness. My latest researches also revolve around AI as an assistive technology for artistic purposes.
Most of these projects result in interactive computational artefacts : machines or algorithms.
In 2017 I won the Digital Design Awards in the Illustration Category thanks to a series of data visualization on the car crashes in the city of Rome.
Exhibitions
---
Echosystems
Hatcham, London, UK
6-9 September 2018

Expanding Systems
26 January - 18 February 2018
APT Studios, London, UK